My oldest son,
Nick
and I are taking the Perspectives class at our church. This class has been awesome. The first 5 lessons were about the Biblical Perspective of our Mission-minded God. At the end of these lessons, we were asked to pray and then write one word down that we felt that God was sharing with us. This was a result of the different words.
The words are weighted by the number of people that picked that word… You will see that Love was picked the most. The word I wrote was multitude, because this scripture was pressed upon my heart so heavily.
After this I looked,
and there before me was a great multitude that no one could count, from every nation, tribe, people and language, standing before the throne and before the Lamb.
They were wearing white robes and were holding palm branches in their hands. And they cried out in a loud voice:
"Salvation belongs to our God,
who sits on the throne,
and to the Lamb." Revelation 7:9-10
I have always loved the image of every nation, tribe, people and language worshiping the Lord together but what really stood out to me this time was "a great multitude that no one could count..."
The visual of a
great multitude that no one could count…
… literally took my breath away and filled me with such hope.
I ponder and try to image what that looks like… visually…
Such a beautiful sight.
God's desire and design… from the very beginning…
The fulfillment of his plan… the reflection of His glory… we are the reflection of His Glory…
… that multitude before the throne… so many beautiful worshipers…
that no one can count…
YET…
He knows each one by name… He knows how many hairs are on each ones head…
I ponder that and I am amazed at the vastness… yet the closeness of our God…
… and I realize... that I will be one of those multitude before Him…
I am... a reflection of His Glory…
I treasure being able to take this class in this specific time and season of my life…
Check out Perspectives online at:
www.perspectives.org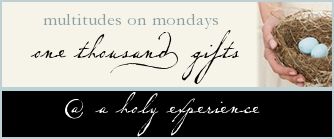 #171 getting threaded into God's Story
#172 spending time shopping with missionary daughter
#173 doing homework with oldest son
#174 hearing rock star son's band
#175 going shopping with hubby at Sam's Club
#176 realizing HOW much I appreciate that my hubby does so many of the errands
#177 my dad getting around better and recovering well at home
#178 getting plans started for rock star son's graduation
#179 unique son's application to 24/seven sent off
#180 excitement in unique son's heart for 24/seven
#181 seeing awesome growth in our children
#182 messages on our identity in Christ at church
#183 almost having all the state quarters for our collection (1 left – we had it but lost it)
#184 rejoicing over the blessing of the birth of sweet friends 5th child
#185 thinking of that great multitude that no one could count…
Now It's link-up time!
It's Women Living Well's Wednesday Link-Up Party!!!
Join the fun, do a little blog hopping and don't forget if you join below -please add the Women Living Well Wednesdays button to your post so your readers can find us here! (Posts can include the topics of marriage, parenting, homemaking, finances, recipes, organization and more!)
Pin It