So, I wanted to start some Top 10 lists for my blog and my own menu planing.
I am going to start with the -
10 Easy Special Meals:
In our family if there are toppings of your choice for a meal - it is a hit because you can pick and choose what you want to add - and with 10 people that is important. With that in mind many of these 10 easy special meals are special because of the toppings...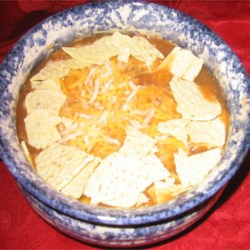 1.
Six Can Chicken Tortilla Soup
Ingredients
1 (15 ounce) can whole kernel corn, drained
2 (14.5 ounce) cans chicken broth
1 (10 ounce) can chunk chicken
1 (15 ounce) can black beans
1 (10 ounce) can diced tomatoes with green Chile peppers, drained
Directions
Open the cans of corn, chicken broth, chunk chicken, black beans, and diced tomatoes with green chilies. Pour everything into a large saucepan or stock pot. Simmer over medium heat until chicken is heated through.
Recipe From:
http://allrecipes.com/recipe/six-can-chicken-tortilla-soup/detail.aspx
2. Olivia's Easy Lasagna
1 box Lasagna Noodles
1 pound Ground Beef
1 can Spaghetti Sauce
2 cups of Shredded Mozzarella & Cheddar Cheese
Boil the lasagna noodles. Brown 1 pound ground beef. Add a can of spaghetti sauce to the ground beef. Layer sauce mix, noodles and shredded mozzarella and cheddar. End with a layer of noodles and a layer of cheese. Bake at 350 for an hour. (Cover with foil for the last 30 minutes.)
3.

Quesadillas
You can make anything on a tortilla. I love to mix up our fillings for these grilled tortillas—
luncheon (ham, turkey or chicken) meat and shredded cheese
maybe steak or chicken strips, red and yellow peppers, and mozzarella cheese
taco meat salsa and Mexican cheese
shredded cabbage,Italian dressing and shredded cheese
and of course JUST shredded cheese
anything goes! And it's quick and easy as long as you're using leftover/pre-cooked meat.

4.
Jiffy Jambalaya
Ingredients
1 medium onion, chopped
1/2 cup chopped green pepper
2 tablespoons vegetable oil
1 pound fully cooked kielbasa or Polish sausage, cut into 1/4-inch slices
1 (28 ounce) can diced tomatoes, undrained
1/2 cup water
1 tablespoon sugar
1 teaspoon paprika
1/2 teaspoon dried thyme
1/2 teaspoon dried oregano
1/4 teaspoon garlic powder
3 drops hot pepper sauce
1 1/2 cups uncooked instant rice
Directions
In a skillet, sauté onion and green pepper in oil until tender Stir in the sausage, tomatoes, water, sugar and seasonings. Bring to a boil; add the rice. Cover and cook for 5 minutes or until the rice is tender.
Recipe from:
http://allrecipes.com/recipe/jiffy-jambalaya-2/detail.aspx
5. Baked Potato Bar
Bake potatoes in oven during afternoon
Place favorite toppings in containers – I have an old Tupperware container with divided sections that I use.
Topping Suggestions:
cheese – a must – what ever kind you like or have on hand
margarine or butter – we prefer butter
bacon bits, diced meat (ham, turkey, chicken)
onions, green onions, chives
broccoli, diced tomatoes, diced peppers
6. Bean & Cheese Burrito
1 –2 cans of pinto, black or chili beans
1 package of Mexican cheese blend
1 package of flour tortillas
garlic powder-garlic salt
any other toppings you wish – onions, sour cream, tomatoes, salsa.
Open cans of beans and season with garlic powder-salt to taste. You can add other seasoning that you like. I will add a little taco seasoning or cumin sometimes.
place spoon full of beans on middle of tortilla and sprinkle with cheese. Fold tortilla and microwave for 25-30 second. You can also lightly brown the tortillas on a griddle or in a pan, then add toppings.
7. Quiche
Ingredients
2 tablespoons butter
1 onion, minced
1 teaspoon minced garlic
2 cups chopped fresh broccoli *
1 (9 inch) unbaked pie crust
1 1/2 cups shredded mozzarella cheese *
4 eggs, well beaten
1 1/2 cups milk
1 teaspoon salt
1/2 teaspoon black pepper
1 tablespoon butter, melted
* You can add your favorites:
meat – ham, bacon, ground sausage you want.
veggies – broccoli, red – green- yellow peppers, zucchini
cheese you want – Swiss, cheddar, jack, Mexican blend
Directions
Preheat oven to 350 degrees F (175 degrees C).
Over medium-low heat melt butter in a large saucepan. Add onions, garlic and broccoli. Cook slowly, stirring occasionally until the vegetables are soft. Spoon vegetables into crust and sprinkle with cheese.
Combine eggs and milk. Season with salt and pepper. Stir in melted butter. Pour egg mixture over vegetables and cheese.
Bake in preheated oven for 30 minutes, or until center has set.
Recipe From:
http://allrecipes.com/recipe/easy-broccoli-quiche/
8. Beef Stew
2 pounds beef chuck or stew meat, cut in 1″ cubes (or you can even buy stew meat already cut up)
1/4 cup flour
1 1/2 tsp. salt
1/2 tsp. pepper
1 1/2 cups beef broth
1 tsp. Worcestershire sauce
1 clove garlic
1 bay leaf
1 tsp. paprika
Bunch of baby carrots
2 cans of potatoes (this is the trick…whole canned potatoes don't go soggy)
2 onions, chopped (I just throw in big chunks so I can scoop them out afterwards)
1 stalk celery, sliced
Please meat in cooker (no need to brown first). Mix flour, salt and pepper and pour over meat; stir to coat meat with flour. Add remaining ingredients and stir to mix well. Cover and cook on low for 10-12 hours or high 4-6 hours. Stir stew thoroughly before serving.
9. CROCKPOT 40 CLOVE GARLIC CHICKEN
-1 large broiler/fryer whole chicken (as big as your crock will fit)
-thyme, rosemary, sage, parsley (Italian Seasoning)
-salt & ground pepper
-40 cloves UNPEELED garlic (buy in a jar already peeled)
Season the chicken in and out with salt, pepper, and generously with the herbs. Place on top of the celery. Place the cloves all around and on top of the chicken. Cover and cook on low 8 hours.
Remove chicken and celery to serving platter. Remove garlic to small bowl
GRAVY
-1/4 cup cream
-2 - 3 tablespoons cornstarch
-salt and fresh ground pepper to taste
Skim the fat off the liquid in the crockpot. Turn to high. Add the cream. Mix cornstarch with a small amount of water until smooth and add to liquid. Stir, cover and heat until thickened. You can pour some on the chicken and put the rest in a gravy boat.
Serve with noodles or garlic mashed potatoes made from some of that wonderful roasted garlic in the pot.
Recipe from:
http://orgjunkie.com/2006/09/slow-cooker-beef-ste.html
10.

Nacho Bar
Make your own Nacho Bar using some of the items below:
Of course it you want it really easy- just use of few of these - (like chips & cheese)
Chips
:
A variety of tortilla chips (white corn, yellow corn, nacho, blue corn, or multigrain)
Cheese
:
Shredded Monterey jack cheese
Other shredded cheese
Nacho Cheese Sauce (put in crock pot and cook on low until heated through)
Beans
:
Black beans*
Pinto beans (*cook beans in crock pot during the day)
Refried bean dip
Meat
:
Chili with beans, bought or homemade
Chili with no beans, bought or homemade
Chorizo (regular or vegetarian) sausage crumbles
Ground beef (or ground sirloin), cooked
Ground turkey, cooked
Shredded rotisserie chicken
Vegetables
:
Corn kernels
Diced avocado
Diced red onion
Chopped green chilies
Chopped scallions
Chopped tomatoes
Sliced bell peppers (red, yellow, green) or jarred roasted red pepper
Sautéed onion
Sautéed mushrooms
Garnishes
:
Cilantro
Fresh lime
Sliced black olives
Sliced jalapenos, pickled or not
Shredded lettuce
Sauces
:
Salsa, bought or homemade: Mild, medium, hot
Flavored salsas (Mango, Verde, Habanera, Garlic/Lime, etc.)
Sour cream
Guacamole
Taco sauce
Ranch dressing
There you have it – 10 easy meals that are fun and a little more special than a jar of spaghetti and pasta.
If you want to list and post your easy meals -
Click on over to this cute Top 10 Easy Menu Lists to print these out:
http://www.livinglocurto.com/2009/04/printable-meals-list/
Enjoy~
Pin It