Celebrate Advent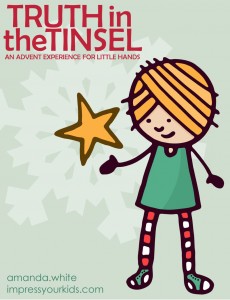 Each year I try to find some kind of creative way to celebrate Advent. We usually will do something that follows the Jesse Tree theme. Last year I wanted something that was not too intense but fun and creative…
I found Truth in the Tinsel, it was a great fit for us. I was a little concerned that it would be too young for my girls…
but I found it was a nice change from some of our more intense devotions we have done and helped us to remember the simple truths of the season. We had so much fun making the ornaments and reading the daily devotions.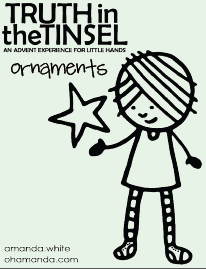 Amanda has made ornaments that match the devotions. They are only $3.99. So if you want a simple but effective way to celebrate the truth in the midst of the tinsel... this is your answer...
It was my plan to use the same devotion this year… but we are in the process of closing on buying a house and may be packing much of December... so this year I am all about easy, simple (completely put together for me) and not time comsuming to complete each day...
I love the
Calender Connections
over at
1+1+1=1
.
The facts are written at a 3-6th grade level but you will be able to water them down for younger kids.
I was planning on using her Chritmas Around the World Calendar Connections cards in our Calendar Chart (since we are planning on doing a mini unit on Chritmas Around the World for December.)
I am not sure we will be able to complete all I want to on this Unit so the Jesse Tree Calendar Connection Cards will be a better fit.
Carrisa has made e-books to go with the Calender Connections, for subscribers of her site. They are also downloadable to read on your i-pad or kindle. One of her readers put together these ornaments for the tree to go with the calendar connections. When I saw them, I new they would be a perfect match for us in this busy month for us. I will have the girls find the card from the calender chart and we will read and talk about the scripture then place the ornament on our
Learning Tree
that sits on the kitchen table. I will place the Ornaments in the calendar pockets along with the calendar number and informations card. I will take a pitcute and post on how it is working as we get it all set up and working.
I so appreciate others work and investment of time in making celebrating the season easier...

Pin It