Praying the Psalms
"What matters is not what we feel like praying about, but what God wants us to ask him for. Not the poverty of our own heart, but the riches of the Word of God must decide how we are to pray."
Dietrich Bonhoeffer from - The Psalms - Prayer Book of the Bible.
Today, during our Morning Bible Time, we were going over our Habit of the Week – Which is Morning Devotions:
Our Action Steps in building the habit of Morning Devotions are:
Read Devotion
Spend Time Praying
Write in Quiet Time Journal and/or
Fill out Devotion Worksheet.
At the bottom of each Habit Poster is a quote from Emerson:
"Sow a thought and you reap an action; sow an act and you reap a habit; sow a habit and you reap a character; sow a character and you reap a destiny."
―
Ralph Waldo Emerson
We were completing one of our Action Step Worksheets on this Habit.
This worksheet asks for a Bible Verse for this Habit.
We chose Psalm 5:1-3
A Prayer for Guidance
To the Chief Musician. With flutes. A Psalm of David.
1 Give ear to my words, O Lord,
Consider my meditation.
2
Give heed to the voice of my cry,
My King and my God,
For to You I will pray.
3
My voice You shall hear in the morning, O Lord;
In the morning I will direct
it
to You,
And I will look up.
Memories of my first year as a "walking it out" believer came flooding back…
In that first year, I use to listen to this song over and over again (I had found it on an old record album – this really dates things a bit)
This song is based on Palms 5:1-3
I use to listen to this version back then – So I pulled it up on the i-pad and the kids and I listened to over and over and talked about it.
We looked up different versions in the Bible for Psalm 5 (found the message very interesting and one worth pondering on). I gave my unique son an assignment to write this Psalm in his own words. Even though it is an old style of worship song for my kiddos – they all enjoyed listening to this song and going down memory lane with their Mama…
I found this one on You Tube that I like. I will probably be listening to this over and over and over again this week… Learning moments at it's best!!!!
Check out this post on my blog for a list of the themes in Psalms: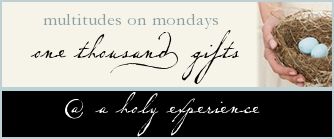 Psalms 5
that all I have to do is look up
a good full week of school under our belt
banners and subway art
family time over weekend
the message
church family
deserts
being creative with what we have
movement
His timing
morning time
special memories of early days
salvation
growth
Looking up ~
Pin It