This is one of my all time favorite songs to worship to. I have been know it hit the repeat button and listen and cry out to it at least 20 times over… ask my kiddos!!!
Yearn
Shane and Shane
holy design
this place in time
that i might seek and find my God
my God
Lord i want to yearn for You
i want to burn with passion
over You and only You
Lord i want to yearn
Your joy is mine
yet why am i fine
with all my singing and bringing grain
in light of Him
oh You give life and breath
through Him You give all things
in Him we live and move
that's why i sing
acts 17:25-28, hebrews 12:28-29
This song goes into the deep places of my soul…
It reminds me – that if I am focused just on the worship and serving of Him…
I may just miss Him…
and those places that long and yearn for His touch…
those places that long for Him…
… are left empty and shallow
…instead of overflowing and deep

This song reminds me that as I seek His face and reach out for Him…
… I will find Him.
That in Him… I live and move and have my being…
I yearn for that depth of living… I yearn for that kind of movement…
I yearn for being… in Him ...moving in Him~
And he is not served by human hands, as if he needed anything. Rather, he himself gives everyone life and breath and everything else. From one man he made all the nations, that they should inhabit the whole earth; and he marked out their appointed times in history and the boundaries of their lands. God did this so that they would seek him and perhaps reach out for him and find him, though he is not far from any one of us.
'For in him we live and move and have our being.'
As some of your own poets have said, 'We are his offspring.'
Acts 17:25-28
Therefore, since we are receiving a kingdom that cannot be shaken,
let us be thankful, and so worship God acceptably with reverence and awe,
for our "God is a consuming fire."
Hebrews 12:28-29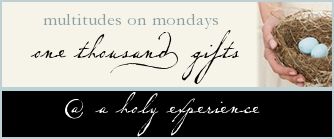 Things I am thankful for this week:

yearning for my Savior
desire for more of him
all uniques son learned while a YWAM
uniques sobn home and adjusting people that relate
missionary daughter teaching again
internship for giving son
family who plays together
friends who love and pray together
healing and restoration for chruch we love
your hand in find lost souls
neighbor who loves and shares with us
laundry caught up!!!
Yearning for Him~
Pin It