I am participating in the Not Back-to-School Blog Hop over at ihomeschoolnework.com. I decided to do this so that I would be accountable to finish up our back to school planning so we can actually start.
Here is a copy of my Course of Study for my youngest 3 girls which are in 3-6th grade.
Bible:
We will have Bible together in the mornings and each girl will use have their own personal devotion time, by picking out from one of the many devotional books we have and using devotional sheets like
these ones
to help record what they are learning. For our Bible time together we will be using
The DK Illustrated Family Bible
along with this fun book full of creative recipes and activites. The Good Book Cookbook, Grades K - 5: 60 Quick-and-Easy Recipes for Teaching Bible Stories For character building we will us Doorposts "Put On" chart and study. If you have never checked out
Doorposts
books – you need to. They are awesome.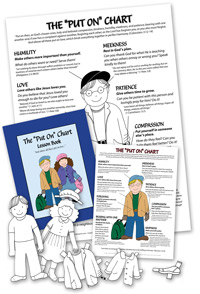 Math:
For math we will continue using Math-u-See. We have used this curriculum for years, will all my children. I have tried other ones and end up going back to MUS. We use the older manuels. I tend to like the older versions of curriculums.
Language Arts:
For Language Arts the girls will be reading
Five-in-a-Row
books that go with the different continents. I love FIAR and each year try to bring in a few of these precious picture books. We will be covering a Literature Genre, Grammar concept and story element each month. Using various worksheet I find on the web to reinforce these concepts. For spelling I have created my own lists using this format from
Scholastics.
We will also be keeping
Readers Notebooks.
History/Geography:
This year we will not be doing history but focusing on World Geography and Missions. We will use Expedition Earth from Erica over at Confessions of a Homeschooler, as our main frame and read one of the
YWAM
missionary stories for our Read-a-loud each month. I will cover a continent a month (using two months for Europe) and a country a week from each continent.
Here our some of our plans:
I have also put together Continent Boxes for each Continent that have many different items in them for enrichment studying. I will post on these another time.
Science:
For Science we will be covering a the Ecosystem. Each month we will cover a biome and complete mini unit worksheets on these habitats. We will be reading the
Magic Tree House books
and Fact Tracker books.
I will have the girls read the book as their daily reading (along with the FIAR books) and we will go over the Fact Tracker books together.
Fine Arts:
We will follow the Expedition Earth suggestions for Music, Arts & Crafts and Foreign Language study. We will listen to music from different countries and cultures, learn some basic words in languages from around the world. We will also be making some fun meals or food items from the different counties we visit. For Music and Art Appreciation we will be using another one of Confesstions of a Homeschooler's creations:
World's Greatest Composers
and
World's Greatest Artists.
It is going to be a full year, but one I hope will be highlighted with many memories.
Looking forward to the new school year~
Pin It