Week of 4/23 – 4/29
Week of Chili – make a big batch of chili and serve all week:
Monday – Quickest Chili in the West
Tuesday – Chili Potatoes
Wednesday – Chili Mac
Thursday – Chili Corn Bread Casserole
Friday – Chili Nachos
Saturday –
Left Overs or Breakfast for Diner
Sunday – Creamy Southwest Soup
Here is quick chili recipe:
The Quickest Chili in the West
Ingredients
1 pound ground beef or turkey, browned and drained, optional
one 28-ounce can crushed tomatoes
one 28-ounce can pinto beans, drained
two 15-ounce cans black beans, drained
one 15-ounce can hominy, drained
1-2 cups water (depending on how thick you like your chili)
1/4 cup chili powder
1 tablespoon onion flakes
1 tablespoon dried oregano
1 tablespoon dried parsley
1 tablespoon garlic powder
salt and pepper to taste
Toppings: salsa, grated cheese, sour cream
Instructions
Combine all ingredients in a 4-quart slow cooker. Cook for at least 4 hours on high.
Alternatively, combine the ingredients in a stockpot over medium heat. Simmer for 20 minutes.
Serve with toppings and chips.
Recipe from:
http://lifeasmom.com/2011/12/quickest-chili-in-the-west-urs-make-ahead-meals.html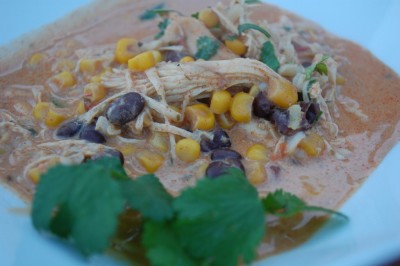 Creamy Southwest Soup
2 lbs. of boneless skinless chicken breasts
1 can tomatoes and green chilies, undrained (Rotel)
1 can diced tomatoes
2 cans whole kernel corn, undrained
2 cans black beans, drained and rinsed (cooked black beans from dried beans)
1 brick, 8 oz, 1/3 less fat cream cheese
1 envelope ranch dressing mix
1 tsp. cumin
1 tsp. chili powder
1 tsp. garlic salt
1 cup brown rice, cooked (option – can serve over rice)
In a 4-5 quart slow cooker, combine tomatoes, corn, and beans. Place the brick of cream cheese on top, in the center away from the sides. Place chicken in a single layer over the top, sprinkle with spices. Cover and cook on high for 3-4 hours. Turn off the heat. Shred the chicken with two forks, and stir in the cream cheese. We served ours with cornbread muffins.
Recipe from:
http://groceryshrink.com/2012/02/creamy-southwest-soup-a-slow-cooked-masterpiece.html
Linking up to:
http://orgjunkie.com/
Enjoy having your meals planned for the week~
Pin It