This months 10 for Tuesday is 10 Easy Meals in a Muffin Tin. I am loving the ease of making mini versions of meals in a muffin tin. They can be eaten for Breakfast, Lunch, Dinner and Snacks. I tried to represent different kinds of meals in a muffin. Leftovers freeze well in ziplock bags and come in handy when we need a quick meal or one of my older children come home from work or an event and want something to eat. My Muffin Tins have been getting a workout lately.
1.
Chicken Pot Pie Cupcakes
by
BevCooks
Ingredients
1 chicken breast, poached and diced
1 (14.5 oz) can cream of chicken soup
1 cup frozen mixed veggies
1 cup shredded cheddar cheese
1 Tbs Herbs De Provence
1 tsp onion powder
1 tsp garlic salt
2 (10 oz) cans Pillsbury biscuits
Directions
1Preheat your oven to 400.
2In a large bowl, combine the cooked chicken, cream of chicken soup, frozen veggies, cheese, herbs and spices.
3Lightly grease a 12-cup muffin tin and place the Pillsbury biscuits into each cup, pressing into the bottom and up the sides.
4Evenly spoon the pot pie mixture into each biscuit cup. Slide into the oven and bake for about 15 minutes. Check at the 12 minute mark.
5Let rest for about 3 minutes and dig in!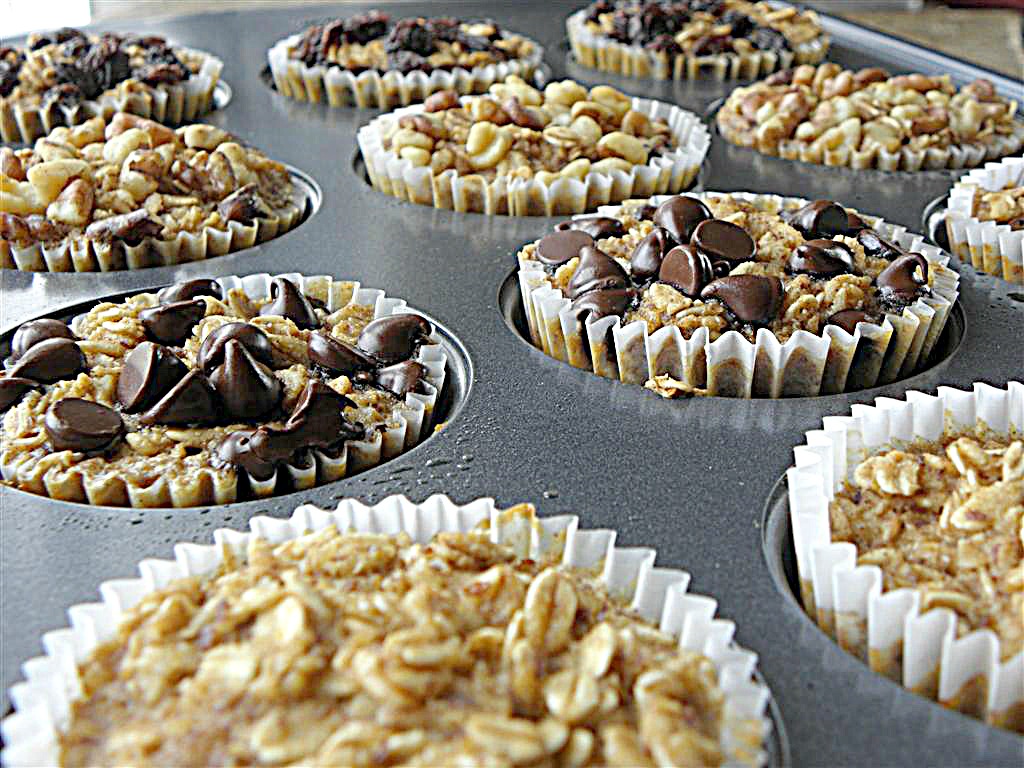 2.
Oatmeal in a Muffin
Ingredients
2 eggs
2 cups applesauce, unsweetened
5 cups, Old Fashioned rolled oats
1 banana, mashed
2 3/4 cups milk (I used 1%)
1/4 cup flaxseed meal
6 packets of Sweetleaf Stevia or 1 1/2 teaspoons stevia powder or 1 cup of sugar
1 tablespoon ground cinnamon
3 teaspoon baking powder
1 teaspoon vanilla extract
1 teaspoon salt
Optional toppings: raisins, walnuts, chocolate chips
Directions
Preheat oven to 350 degrees.
Mix eggs, vanilla, applesauce, banana and Stevia together in a bowl.
Add in oats, salt, baking powder, flax and cinnamon and mix well with wet ingredients.
Finally pour in milk and combine.
Spray a 12 and 6 capacity muffin tin with cooking spray or use cupcake liners.
Pour mixture evenly into muffin tin cups.
If using toppings add them onto the tops of muffins now. If using fresh or frozen fruit, drop it right into the batter.
Bake 30 minutes until a toothpick in center comes out clean. Cool and enjoy or freeze them in gallon freezer bags.
Additional Notes:
Use a half cup to one cup of honey in place of stevia if you don't have any.
Nutrition info is without any toppings.
The batter will look RUNNY, don't worry!
Freeze them in an airtight container or Ziploc bag after they have cooled. Thaw overnight in refrigerator for morning you want them.
Reheat 45-60 seconds.
Spray the cupcake liners with nonstick cooking spray.
Adding cream or milk over the top after warmed is very yummy!
Recipe From:
http://www.sugarfreemom.com/recipes/personal-sized-baked-oatmeal-with-individual-toppings-gluten-free-diabetic-friendly/
3.

Pepperoni Pizza Puffs
Printer Friendly Version
3/4 cup flour
3/4 teaspoon baking powder
1 tablespoon Italian seasoning
pinch of salt (optional)
pinch of red pepper flakes optional)
3/4 cup whole milk
1 egg, lightly beaten
1 cup shredded mozzarella cheese
1/4 cup grated Parmesan cheese
1 cup cubed pepperoni
1/2 cup store-bought pizza sauce
1. Preheat the oven to 375 degrees. Grease a 24-cup mini-muffin pan. In a large bowl, whisk together the flour, baking powder, Italian seasoning, salt and red pepper flakes (if using) ; whisk in the milk and egg. Stir in the mozzarella, Parmesan and pepperoni; let stand for 10 minutes.
2. Stir the batter and divide among the mini-muffin cups. Bake until puffed and golden, 20 to 25 minutes.
3. Meanwhile, microwave the pizza sauce until warmed through. Serve the puffs with the pizza sauce for dipping.
NOTE:
All my batter did not fit into the 24-mini muffin pan. So I made a full size muffin with the leftover batter. Some pans are larger than others so you may not have have an issue.
adapted from
Everyday with Rachael Ray
and
Cassie Craves

4.
Grand Slam in a Muffin
Bacon, Egg, and Toast Cups
Ingredients
3 tablespoons unsalted butter, melted
8 slices white or whole-wheat sandwich bread
6 slices bacon
6 large eggs
Coarse salt and ground pepper
Directions
Preheat oven to 375 degrees. Lightly butter 6 standard muffin cups. With a rolling pin, flatten bread slices slightly and, with a 4 1/4-inch cookie cutter, cut into 8 rounds. Cut each round in half, then press 2 halves into each muffin cup, overlapping slightly and making sure bread comes up to edge of cup. Use extra bread to patch any gaps. Brush bread with remaining butter.
In a large skillet, cook bacon over medium, until almost crisp, 4 minutes, flipping once. (It will continue to cook in the oven.) Lay 1 bacon slice in each bread cup and crack an egg over each. Season with salt and pepper. Bake until egg whites are just set, 20 to 25 minutes. Run a small knife around cups to loosen toasts. Serve immediately.
Recipe from:
http://www.marthastewart.com/330179/bacon-egg-and-toast-cups
5.

Mac & Cheese Muffins
Source:
Woman with a Whisk
Ingredients:
1 lb. elbow macaroni
3 Tbsp. butter
4 Tbsp. flour
1-1/2 cup milk (skim works fine)
3 packed cups sharp cheddar cheese, shredded
1/2 cup Parmesan cheese, grated, plus more for sprinkling on top
2 extra large egg yolks
1/2 teaspoon salt
1/4 teaspoon nutmeg, freshly grated (optional)
Directions:
Cook the pasta al dente and drain well.
Preheat oven to 425 degrees.
Spray a nonstick mini or regular muffin size pan with cooking spray. Set aside.
In a large saucepan, melt the butter over medium heat. Whisk in the flour and cook for about 1 minute.
Whisk in the milk and bring to a boil. Cook, whisking occasionally, for about 2 -3 minutes until thickened.
Add cheddar and Parmesan cheeses and stir to melt.
Remove from heat and stir in egg yolks, salt and nutmeg. Stir in macaroni.
Spoon slightly rounded tablespoons of macaroni and cheese into the prepared mini muffin pan. Each cup should be filled to the top. Pack each one down gently.
Sprinkle with remaining Parmesan cheese.
Bake for about 10 minutes until golden and sizzling. Let cool for 5 minutes.
Using a teaspoon, carefully loosen the mac and cheese bites and transfer to a platter to serve.
If you're not baking these immediately, simply store on a baking sheet, cover with aluminum foil and refrigerate. Reheat at 400 degrees for 10 minutes prior to serving.

6.
BBQ Biscuit Cups
Ingredients:

1 pound ground beef or turkey
1/2 cup BBQ sauce
1 tablespoon minced onion
1 to 2 tablespoons brown sugar
1 10-ounce package Hungry Jack Biscuits
1/2 cup shredded cheddar or American cheese
Directions:
Preheat oven to 400º.
Grease small muffin pan (appetizer size). Brown ground beef in large skillet; drain. Stir in BBQ sauce, onion and brown sugar. Cook 1 minute to blend flavors, stirring constantly.
Separate dough into 10 or more small biscuits. Place 1 biscuit in each greased muffin cup; firmly press into the bottom and up the sides, forming 1/4 inch rim. Spoon about 1/4 cup of meat mixture into each biscuit-lined cup. Sprinkle each with cheese.
Bake for 10 to 12 minutes or until edges of biscuits are golden brown. Cool for 1 minute; remove from pan.
Recipe by:
Plain Chicken
7.
Taco
Cupcakes
Ingredients:
1 lb. lean ground beef (I used 96% lean)
1 packet taco seasoning
2/3 cup water
1 can black beans, drained
2 cups shredded cheddar cheese
36 wonton wrappers
Favorite Taco toppings: salsa, sour cream, etc.
DIRECTIONS: Preheat oven to 375 degrees. Brown the ground beef in a large skillet over medium-high heat. Drain grease. Stir in taco seasoning, water and black beans. Bring mixture to a boil, and then reduce heat to low. Let simmer for 10 minutes, or until water is absorbed.
Spray 18 regular muffin cups with cooking spray. Place one wonton wrapper in each muffin cup. Divide
half
of the meat mixture between muffin cups. Sprinkle
half
of the cheese over the meat. Repeat layers with another wonton wrapper, taco meat and cheese.
Bake at 375 for 15-18 minutes, or until cheese is bubbly and wrappers are golden brown. Serve with your favorite taco toppings!
Egg Muffins



(Makes 12 muffins)

15 eggs (for silicone muffin pans, use 12 eggs for metal muffin tins or individual silicone cups. You can use less egg yolks and more egg white if you prefer.)
1-2 tsp.
Spike Seasoning
- or use your favorite seasoning
1-2 cups grated low fat cheese (I like sharp cheddar or a blend of cheddar/Jack cheese, use less cheese if using meat)
Add Favorite Veggies, Meat and Cheese:

Optional but highly recommended, 3 green onions diced small, chopped veggies such as blanched broccoli, red pepper, zucchini, mushrooms, etc. (Using veggies will reduce the fat content)

Optional: diced Canadian bacon, lean ham, or crumbled cooked turkey sausage
Preheat oven to 375 F. Use regular or silicone muffin pan, 12 muffin size. If using silicone pan, spray with nonstick spray. If using regular muffin pan, put two paper liners into each slot, then spray liner with nonstick spray.

In the bottom of the muffin cups layer diced meat, if using, vegetables, if using, cheese and green onions. You want the muffin cups to be about 2/3 full, with just enough room to pour a little egg around the other ingredients. Break eggs into large measuring bowl with pour spout, add Spike, and beat well. Pour egg into each muffin cup until it is 3/4 full.

Bake 25-35 minutes until muffins have risen and are slightly browned and set.

Muffins will keep more than a week in the refrigerator. Egg muffins can be frozen and reheated. For best results, thaw in refrigerator before reheating. Microwave on high about 2 minutes to reheat

Recipe From:
http://www.kalynskitchen.com/2006/10/egg-muffins-revisited-again.html

9.

Mini Shepherd's Pies
Ingredients
1 pound ground beef
3 tablespoons chopped onion
1/2 teaspoon minced garlic
1/3 cup chili sauce or ketchup
1 tablespoon cider vinegar
1/2 teaspoon salt
1-1/4 cups water
3 tablespoons butter
1-1/4 cups mashed potato flakes
1 package (3 ounces) cream cheese, cubed
1 tube (12 ounces) refrigerated buttermilk biscuits
1/2 cup crushed potato chips
Paprika, optional
Directions
In a large skillet, cook beef and onion over medium heat until meat is no longer pink. Add garlic and cook for 1 minute or until tender; drain. Stir in the chili sauce, vinegar and salt; set aside.
In a small saucepan, bring water and butter to a boil. Pour into a small bowl. Whisk in potato flakes until blended. Beat in cream cheese until smooth.
Press 1 biscuit dough onto the bottom and up the sides of each of 10 greased muffin cups. Fill with beef mixture. Spread potato mixture over beef. Sprinkle with potato chips; press down lightly.
Bake at 375° for 20-25 minutes or until golden brown. Sprinkle with paprika if desired. Serve immediately, or cool before placing in a single layer in a freezer container. Cover and freeze for up to 2 months.
To use frozen pies: Thaw in the refrigerator for 8 hours. Place on a greased baking sheet. Bake at 375° for 15-18 minutes or until heated through. Yield: 5 servings.
10. Mini Mexican Pizzas
Ingredients:
3-4 large whole wheat tortilla's, or enough to cut out 12 small circles (I prefer low carb/high fiber tortillas)
1 cup lean ground turkey, cooked (OR lean ground beef OR 1 cup Morning Star Meatless Crumbles)
1/2 cup salsa of choice (I used one with corn)
2 tsp dry taco seasoning
1/2 cup low fat refried beans
1/2 cup low fat shredded mexican blend or 2% cheddar cheese
Optional Toppings: sliced black olives, shredded lettuce, low fat sour cream, chopped tomatoes
Method:
Preheat oven to 425 degrees. Spray a 12 count muffin tin with non-stick cooking spray.
Start by laying each tortilla out individually on a flat surface, and use an empty can, glass cup, or cookie cutter to cut 3-4 medium circles out of each wrap.
Press each wrap circle into muffin tin using your fingers. (Note: it doesn't have to cover the entire side of the tin, it should just fit snuggly!)
Meanwhile, in a small bowl, mix together the ground meat, salsa, taco seasoning, and refried beans. Stir until well combined.
Scoop 1/8th cup of meat mixture into each wrap.
6. Top with shredded cheese, (dividing evenly between each pizza), and olives if desired
7. Bake in pre-heated oven for 12-15 minutes, or until cheese is melted.
8. Wait for mini Mexican pizzas to cool, and remove from muffin tin using a fork or knife. Pizza's should pop out with ease!
Serve with a side of salsa, low fat sour cream, chopped tomatoes, and/or shredded lettuce if desired!
Recipe From: http://www.dashingdish.com/2012/01/mini-mexican-pizzas/
Well that's if for
10 on Tuesday.
Enjoy~
Pin It