As promised… here are some
recipes
from our
February Meal
plan…
Pepperoni Roll Ups
Recipe from:
Taste of Home
Ingredients:
1 tube (8 ounces) refrigerated Pillsbury crescent rolls
32 slices pepperoni (I used Hormel's turkey pepperoni slices)
4 pieces string cheese, cut in half
1/4 teaspoon Italian seasoning
1 Tablespoon butter, melted
Marinara or Pizza sauce, for dipping
DIRECTIONS: Preheat oven to 375 degrees. Unroll crescent dough; separate into 8 triangles. Place 4 pepperoni slices on the large end of each triangle. Place one half string cheese on the top of the pepperonis. Roll up towards point. Place roll ups at least 2 inches apart on a lightly greased cookie sheet. Mix together Italian seasoning and melted butter. Brush over the tops of the roll ups. Bake for 10-12 minutes or until golden brown. Serve warm!
Recipe by:
Plain Chicken
Ingredients:
1 lb. lean ground beef (I used 96% lean)
1 packet taco seasoning
2/3 cup water
1 can black beans, drained
2 cups shredded cheddar cheese
36 wonton wrappers
Favorite Taco toppings: salsa, sour cream, etc.
DIRECTIONS: Preheat oven to 375 degrees. Brown the ground beef in a large skillet over medium-high heat. Drain grease. Stir in taco seasoning, water and black beans. Bring mixture to a boil, and then reduce heat to low. Let simmer for 10 minutes, or until water is absorbed.
Spray 18 regular muffin cups with cooking spray. Place one wonton wrapper in each muffin cup. Divide
half
of the meat mixture between muffin cups. Sprinkle
half
of the cheese over the meat. Repeat layers with another wonton wrapper, taco meat and cheese.
Bake at 375 for 15-18 minutes, or until cheese is bubbly and wrappers are golden brown. Serve with your favorite taco toppings!
Chicken Wild Rice Soup
recipe by: allrecipes.com
I grew up in Minnesota where wild rice is grown…. so this is a yummy reminder of my roots and a comfort food for me.
Ingredients
1/2 cup uncooked wild rice
3 tablespoons butter
1 onion, chopped
1 cup chopped celery (can also add chopped cooked carrots)
3 tablespoons all-purpose flour
salt and pepper to taste
1 (10.75 ounce) can chicken broth
2 cups milk
2 cups diced cooked chicken
Directions
1. Prepare rice according to package directions. (I make mine in the rice maker ahead of time)
2. Melt the butter or margarine in a large pot over medium heat. Add the onion and celery and sauté for 5 to 10 minutes, or until almost tender.
3. Stir in the flour and salt and pepper to taste. Add the broth and milk and stir until soup thickens.
4. Add the rice and the chicken and allow to heat through, about 10 minutes.
Cowboy Stew
I call this an open and dump recipe, because the majority of the recipe involves opening various cans and dumping them into the crock pot.
Ingredients:
1/4 pound of bacon (optional)
1 pound of ground sausage (or 1
pound mild ground sausage & 1/2 pound hot or spicy ground sausage)
1/2 pound ground beef
1 medium chopped onion
Do not drain the following cans of beans:
1 can kidney beans
1 can pork & beans
1 can chili beans
1 large can baked beans
1 can black beans – drained
1 can white beans – drained
1/3 cup brown sugar
2 tsp. mustard
2 tsp. cider vinegar
1/2 tsp. salt
1/2 cup ketchup
Cook meat and onions in frying pan. Add to crock pot. Open all the cans of beans and add to crock pot. Add all other ingredients. Cook in crock pot on low for 4-6 hours or on high for 2 –4 hours. Serve with bread or corn bread.
This recipe is very forgiving. You can use any or all of the meats, and pick and choose what beans to add. You will have to gauge this on what size of crock pot you use. I use at least a 5 quart size. I have used what ever beans I had on hand and doubled the cans if I did not have certain ones to fill the crock pot. You need the liquid of baked beans, chili beans and pork in beans so the recipe will not be dry. I add the liquids of what ever beans I think will add flavor.
C
hellsen Chicken
I did not make up this recipe. It was given to me years ago by a friend, who called it "Surprise Chicken." My children have coined it "Chellsen Chicken," because it is one of their favorites.
Ingredients
4-6 chicken breasts (bonless & skinless)
1 can of cream of chicken soup
1 can of cream of mushroom soup
1 can of milk
(you can use 2 of either of these soups if you do not have one of them)
4-6 slices of American cheese (optional – if I do not have this I do not add)
1 –2 boxes of stove top stuffing (we like the stuffing so we use 2)
1 stick of butter
Lay the chicken breasts on the bottom of a 9 x 13 pan. Cover chicken with cheese slices. Mix the milk with the two cans of soup (original recipe called for 1 can of soup but we like ours with extra sauce and since we are using 2 boxes of stuffing we need the extra liquid – if you use one can you may only need 1/2 – 3/4 can of milk) Pour the soup mixture over the chicken. Spread out the stuffing mix on top of soup mixture. Slice the butter into little pads and spread out on top of the stuffing. Cover and bake for about 30-40 minutes at 350 degrees. Uncover and back for remaining time (15 – 30 minutes).
We serve this over rice. I cook my rice in my rice cooker while the chicken is cooking. So good….. all time hands down favorite of every member of our family.
<> >

<>>

TACO SOUP
Cooks.com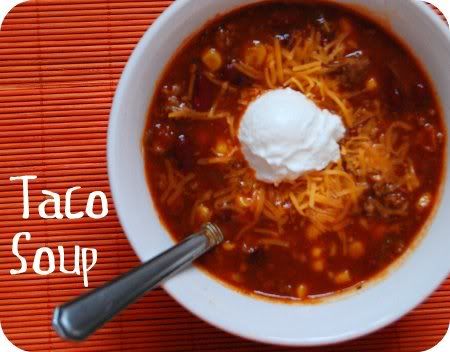 Ingredients:

2 lbs. hamburger or ground turkey
1 chopped onion
2 cans diced or Mexican tomatoes, with juice
2 cans pinto beans, kidney beans or black beans with juice (optional)
1 can of black olives (sliced)
2 cans corn, with juice
1 pkg. taco mix seasoning
1 pkg. Ranch dressing mix

Brown hamburger or ground turkey meat with chopped onion. Drain off fat. Add tomatoes, pinto beans and corn (all with juice). Add dry taco mix and dry Ranch dressing mix. Bring all to boil, reduce heat and simmer on low heat. This can be made in the crock pot and cooked on low for 4 –6 hours or on high for 2 –4 hours. Serve with bread or corn bread.

I will add the beans if I have them, but we like it really well without them. I like to add the beans if I want it to be more like a chili or if I want to serve it over pasta - which is a great option for leftovers. Fun additions would be: taco chips, nacho chips, Fritos, cheese, sour cream, green onions.
I am all about easy, cost effective, good and hearty meals for my family the above recipes fit the bill.
Enjoy…
Pin It