You are in a battle
there is victory in the battle (the battle has already been won)
But you have to be willing to fight.
These where the words the Lord spoke to me during Jonathan's delivery. I thought that these words were just for that day... the day of Jonathan's birth - when we were fighting for his Life.
...But that was only the beginning of a journey the Lord was taking me on to teach me how to fight.
When Jonathan was 18 months he had a horrible reaction to his 18 month immunizations. Over time Jonathan began to loose any language he had and started to withdraw. ...Thus began our battle with Autism.
The Lord continues to bring me back to these three words:
Battle – Victory – Fight
A FEW of the things the Lord has taught me in this process have been:
The Battle belongs to the Lord -
Thus says the LORD to you: 'Do not be afraid nor dismayed because of this great multitude, for the
battle
is not yours, but God's. 2 Chronicles 20:15
Sometimes fighting means you have to stand still
You will not need to fight in this
battle
. Position yourselves, stand still and see the salvation of the LORD, who is with you…
2 Chronicles 20:17
Even though the battle seems bigger than I am - I do not need to fear
"When you go out to
battle
against your enemies, and see horses and chariots and people more numerous than you, do not be afraid of them; for the LORD your God is with you… Deuteronomy 20:1
There is victory -
The Battle has been won through Christ Jesus.
But thanks be to God! He gives us the
victory
through our Lord Jesus Christ. 1 Corinthians 15:57
Fight ~ I have to be willing to fight.
This one has been the hardest for me – there are many days I cry out to the Lord saying "but I do not know how to fight"
But He is always faithful to remind me that He goes before me, He will fight for and with me and He has not left me without weapons to fight with:
I will make you a wall to this people, a fortified wall of bronze; they will
fight
against you but will not overcome you, for I am with you to rescue and save you," declares the LORD. Jeremiah 15:20
The weapons we
fight
with are not the weapons of the world. On the contrary, they have divine power to demolish strongholds.
2 Corinthians 10:4
Some of these weapons are:
Prayer ~ especially with the Word of God
Blessed be the LORD my Rock,Who trains my hands for war, And my fingers for
battle
—
Psalm 144:1
Worship ~
Every stroke the LORD lays on them with his punishing rod will be to the music of tambourines and harps, as he
fight
s them in battle with the blows of his arm. Isaiah 30:32
Joy – the strength to fight comes from finding my Joy in the Lord –
Do not sorrow, for the
joy
of the
LORD
is your
strength
." Nehemiah 8:10
Love ~ Just love Him
And now I will show you the most excellent way. If
s
peak in the tongues of men and of angels, but have not love, I am only a resounding gong or a clanging cymbal. If I have the gift of prophecy and can fathom all mysteries and all knowledge, and if I have a faith that can move mountains, but have not love, I am nothing. If I give all I possess to the poor and surrender my body to the flames, but have not love, I gain nothing. Love is patient, love is kind. It does not envy, it does not boast, it is not proud. It is not rude, it is not self-seeking, it is not easily angered, it keeps no record of wrongs. Love does not delight in evil but rejoices with the truth. It always protects, always trusts, always hopes, always perseveres. Love never fails. And now these three remain: faith, hope and love. But the greatest of these is love.
WOW – I think it will take me a lifetime to walk in that one.
...and I have learned that the battle is not won overnight –
but one step at a time
–
- just as Joshua had to go around the walls of Jericho day after day – Praising the Lord each time he circled – before those walls came tumbling down...
These past few weeks we have been engaged in another battle for Jonathan (more on that another day.)
But as a ponder over these past few weeks, the Lord has reminded me of all He has taught me so far…
and I treasure the lessons I have learned…
I treasure the steps we have made…
I treasure all that He still wants me to learn…
But above all I treasure this boy…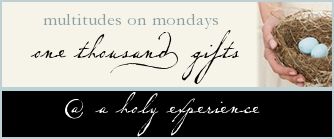 #51 cute comments by little one
#52 little ones smile
#53 Co-op mommies
#54 grace for all or nothing
#55 time with middle son
#56 hearing middle sons struggles and triumphs
#57 gratitude for knowing You were there when I wasn't
#58 perspectives
#59 being stretched as a student
#60 being stretched and challenged as a child of God
#61 being challenged to look at some old issues again
#62 grandpa teacher at perspectives
#63 hearing your affirmation through "Grandpa"
#64 joy and love in being a mommy
#65 excitement in the prospect of bringing special son home to school again
#66 being able to laugh at serious issues
#67 favor over meeting with special son's teachers
#68 you going before me in this meeting
#69 clear direction in the next step for special son
#70 opportunity to include him in our school day last few days
#71 seeing that special son can work without any meds.
#72 coffee and heart to heart talk with special sister in Lord
#73 renewing trust in some spiritual areas
#74 reconnecting with special missionary friend
Pin It