Living in the moment…
Day 22 – youth making a special connection – Aha moments
Day 23 – moment of grace and forgiveness after a hard moment with special son
Day 24 – coffee to grow a relationship
Day 25 – listing to animal reports excitement in voices of learning
Day 26 – walking in brisk morning air
Day 27 – bizillion question about the house from young daughters
Day 28 – continued moments of surrender…
  2.  Take notice of the world.
No matter what you're doing, notice the moments that surround you. Maybe on your way to work or school, you go over a beautiful bridge, or you get a view of the sunrise behind the city buildings.
When you walk down the street, look at the way the light reflects off the buildings, the tree line, and the birds that manage to nest in random corners and cracks. The simple act of tilting your chin can give you a whole new perspective on the place you live.
Really look at a flower. Okay, so you know it's pretty. What is pretty? What does it smell like, besides itself? How many petals does it have? Do the leaves spiral up the stem like a staircase or branch out on opposite sides every now and then? Are there any bugs going about their lives on this plant? Do you think they're even aware of your existence?
My husband likes to say that "God is showing off," whenever he sees a beautiful sunset.  Take time during your days to notice the things that God shows off in our lives… His fingerprints are everywhere… do you see them?
linking to: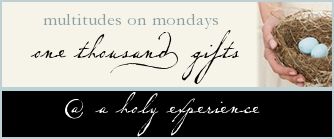 inserts from: http://www.wikihow.com/Live-in-the-Moment
Pin It