I have been so challenged by this post over at Mom Heart by Ann Voskamp…
http://momheart.org/blog/why-the-kids-really-need-a-little-red-hen-mama
Who gets fed first in this house?
Do the children get fed first, before phone calls and dishes, before errands, emails, ministry, to-do lists, hobbies, cyber-surfing,
before all things seen
? Does life stand in line behind the young and the needy, take its turn after their hungry souls?
Are my children deep nourished?
​
Nourished with me
. With laughter and hugs and shared stories, with music and dancing and poetry and literature and art and nature and wind and sky and all of the
God-Glory
.​
Or do I feed them scraps off the floor?
I have been pondering these words.. these questions…
and asking the Lord to allow them to go deep…
I will be spending the month of May praying for direction with our Special Son. One of my sweet sisters in the Lord and I will be sharing this special privilege in seeking the Lord's face and hearing His heart for our children, together.
We have both felt the Lord calling us to limit our time on the computer and share that time with Him in prayer. So with that said, I will have some scheduled posts for the month of May, but other than that I will be spending time with my kiddos and searching Him for direction in this next season of our lives…
how often I have longed to gather your children together, as a hen gathers her chicks under her wings, and you were not willing
.
Matthew 23:36-38
... I want to have that willing heart.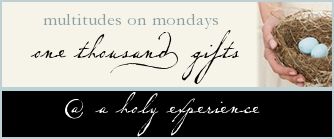 I will resume with a long list of gratitude when I return…
#326 the opportunity to seek His place…
#327 spending time with my kiddos - gathering His chicks
#328 bringing special son home – what ever that may look like
#329 open doors
#330 receiving wisdom and direction
#331 having missionary daughter home this weekend
#332 family pictures taken
#333 watching the different bird and how they fly so differently
#334 lessons you are teaching me through that.
#335 revelation received from the living word
#336 teaching highschoolers spiritual health - what a joy
#337 graduation planned
#338 graduation pics taken
#339 spontaneous conversations about life with giving son
#340 feeling children's hearts when they hurt
Humbly seeking His face~
Pin It