This month I am needing to finish up school planning for our new school year so I decided to try one of the online menu plans.  I found this one:
you can download this menu plan here.
This Weeks Menu is:
Monday – Sausage, Rice and Zucchini.
Tuesday – TRISCUIT Pull Apart Pizza
Wednesday – Crock Pot Beanie Weenies
Thursday – Brown Butter Peas and Bacon Tortellini
Friday – Chicken & Dumplings
Saturday – We will be picking up Aaron from his 24/7 program – recipe below for bacon Cheeseburger Frittata – Sounds and looks really Yummy. 
TRISCUIT Pull-Apart "Pizza"
What You Need
24 TRISCUIT Fire Roasted Tomato & Olive Oil Crackers
1/3 cup PHILADELPHIA Savory Garlic Cooking Creme
1 cup chopped cooked broccoli
1 plum tomato, chopped
1/4 cup KRAFT Shredded Mozzarella Cheese with a TOUCH OF PHILADELPHIA
2-1/2 oz. Italian sausage, crumbled, cooked
1 Tbsp. KRAFT Grated Parmesan Cheese
2 Fresh basil leaves, finely chopped
1 Tbsp. olive oil
Make It
HEAT oven 400ºF.
ARRANGE crackers in single layer on baking sheet to form solid rectangle; spread with cooking crème. Top with broccoli.
COVER half the rectangle with tomatoes and mozzarella; cover remaining half with sausage and Parmesan.
BAKE 10 min. or until mozzarella is melted. Sprinkle basil over tomato-covered half; drizzle oil over remaining half. Serve warm.
Recipe from: http://www.kraftrecipes.com/recipes/triscuit-pull-apart-pizza-129862.aspx
 Crock Pot Beanie Weenies
Ingredients:
2 (28 ounce) cans pork and beans
1 (16 ounce) can pork and beans
1 (1 lb) package hot dog, halved lengthwise and cut into 1-inch pieces
1 large onion, chopped
1/2 cup packed brown sugar
3 tablespoons prepared mustard
4 slices bacon, cooked and crumbled
Directions:
In a crock pot, combine all ingredients; mix well.

Cover and cook on low for 7-8 hours.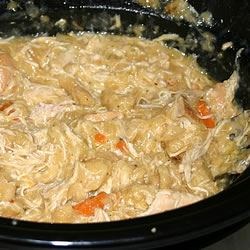 Slow Cooker Chicken and Dumplings
Ingredients
4 skinless, boneless chicken breast halves
2 tablespoons butter
2 (10.75 ounce) cans condensed cream of chicken soup
1 onion, finely diced
2 (10 ounce) packages refrigerated biscuit dough, torn into pieces
Directions
Place the chicken, butter, soup, and onion in a slow cooker, and fill with enough water to cover.
Cover, and cook for 5 to 6 hours on High. About 30 minutes before serving, place the torn biscuit dough in the slow cooker. Cook until the dough is no longer raw in the center.
Recipe from: http://allrecipes.com/recipe/slow-cooker-chicken-and-dumplings/
Bacon Cheese Burger Frittata
Ingredients:
Directions:

Preheat oven to 350°F

Brown hamburger in skillet with onion. Drain well of any excess grease.

Remove and mix in bowl with bacon pieces, breaking up any larger clumps with a fork or pastry mixer until you have a fine mix and press into the bottom of a deep-dish pie pan.

Set aside.

Combine remaining ingredients in mixer bowl and whip well.

Pour mixture over beef "crust" and bake 40-45 minutes until top is browned and "set".

Cool and enjoy!
Recipe from: http://www.food.com/recipe/bacon-cheese-burger-frittata-284089
Enjoy~
Pin It