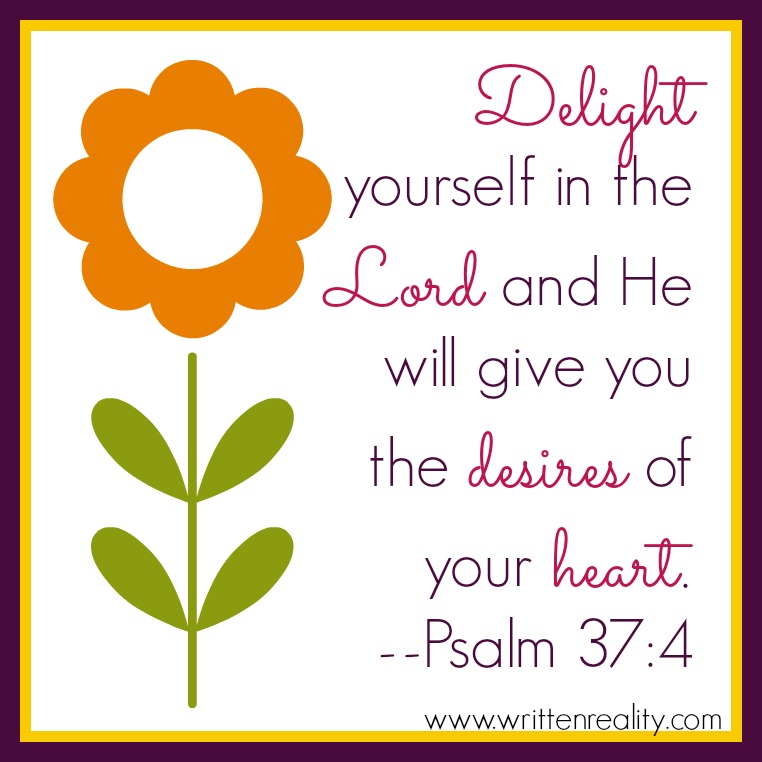 Delight yourself in the LORD,
and he will give you the desires of your heart. 
                                                                    Psalm 37:4
Over the years, on this journey of life…
             this journey of discovery…
                          this journey of trusting…
                 I have struggled with something…
I have believed…
         I have known deep down in my being…
                  I have seen and experience…
                                 That my God,  will and has met my needs…
          He has proven Himself to be the every faithful God that he has promised he would be… 
                                                    in providing my needs.
         Philippians 4:19 says, "My God will supply all your needs according to His riches in glory in Christ Jesus"
and in  Mathew 6:25-34 He reminds us that we have no need to worry about what we will eat or drink or what we will wear, for He provides for the birds of the air and the lilies of the field, so he will certainly provide for us, His children.
Yet…
I have struggled with the truth that He will give me the desires of my heart…
             Those deep felt desires…
                   the desires of the deepest places in our heart…
the word desire means:
1. A wish or longing.
2. A request or petition.
3. The object of longing
4. passion
The past few weeks I have been on this journey with my Lord…
                a journey of seeing His passion to fill those desires…
not only those little wishes
      but those deep longings…
             a journey of igniting passions that I thought I had lost…
                             passions I didn't even realize where there.
That His love…
      His fire…
              His answers…  to those deep desires -
is more of Him…   and more of Him is more than enough…   to fill…     those deep desires
He loves us so much that he not only is enough to fill our needs but he is more than enough... to fill our desires.
Delight yourself in the Lord; and He will give you the desires of your heart.  Psalm 37:4  NASB
Desires – The first word in this verse is a word that expresses the sheer enjoyment of the person of God.  When we delight in who God is an amazing transformation occurs.  Our lives progress toward fulfillment.  Those secret spaces are no longer empty.  We experience the desires of our reborn hearts as joy.  As the psalmist suggests, God gives us His desires so that they may become our desires.
"Desire"
Lyrics by Ryan Adams
Two hearts fading, like a flower.
And all this waiting, for the power.
For some answer, to this fire.
Sinking slowly. The water's higher.
Desire
With no secrets. No obsession.
This time I'm speeding with no direction.
Without a reason. What is this fire?
Burning slowly. My one and only.
Desire
You know me. You don't mind waiting.
You just can't show me, but God I'm praying,
That you'll find me, and that you'll see me,
That you run and never tire.
Desire
Grateful that my God does give me the desires of my heart~
Pin It