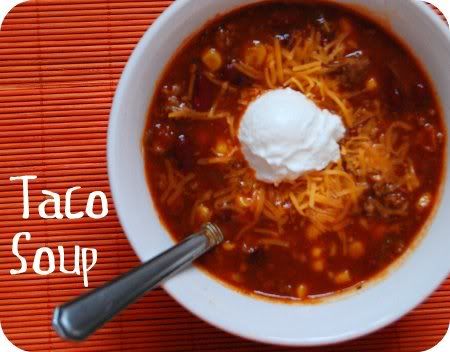 TACO SOUP

Cooks.com
Ingredients:
2 lbs. hamburger or ground turkey
1 chopped onion
2 cans diced or Mexican tomatoes, with juice
2 cans pinto beans, kidney beans or black beans with juice (optional)
1 can of black olives (sliced)
2 cans  corn, with juice
1 pkg. taco mix seasoning
1 pkg. Ranch dressing mix

Brown hamburger or ground turkey meat with chopped onion. Drain off fat. Add tomatoes, pinto beans and corn (all with juice). Add dry taco mix and dry Ranch dressing mix. Bring all to boil, reduce heat and simmer on low heat.  This can be made in the crock pot and cooked on low for 4 –6 hours or on high for 2 –4 hours.  Serve with bread or corn bread. 

I will add the beans if I have them, but we like it really well without them.  I like to add the beans if I want it to be more like a chili or if I want to serve it over pasta - which is a great option for leftovers.    Fun additions would be:  taco chips, nacho chips, Fritos, cheese, sour cream, green onions. 
I am all about easy, cost effective, good and hearty meals for my family the above recipes fit the bill.
Enjoy~
Pin It