Living in the moment…
As we turn the calendar to
a new year…
full of new opportunities
new moments to be living,
I want to focus on fully living
in those moments.
… to see … to touch
… to feel each moment
with my heart
I want this to be a year of living in the moment.
… to reflect each day on a moment from that day that was special, beautiful and FULL.
Each week, I will recap these moments in a 365 days of living in the moment post… this way I can look back and see the fullness of living… life.
This ordinary life laced with
extra ordinary moments…
because we have an extraordinary God
who puts His handprints on every single day.
Won't you join me on this journey
of discovering those moments…
~~~~~~~~~~~~~~~~~~~~~~~~~~~~~~~~~~~~~~~~~~~~~~~~~~~~~~~~~~~~~~~~~~~~~~~~~~~~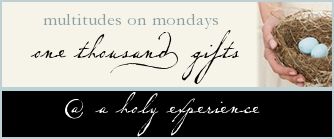 Things I am thankful for this week:
Christmas with the whole fam
house guests
de-cluttering
PROVISION
waiting patiently
free haircuts
special service
reflecting on my Saviors birth
coffee with the ladies
~living in the moment
Pin It